Braveridge Monitoring Service
BACKGROUND
Heavy rainfalls in northern Kyushu and western Japan caused many reservoirs to break down, leaving catastrophic damages. Concerning such disasters occurring more frequently in recent years, national government has reviewed the criteria for selecting reservoirs for disaster prevention, changing the way of prevention significantly. There is an urgent need for each local government to develop a monitoring system, including the installation of a water level gauge, and a "Reservoir Management System" for easy and economical installation in many reservoirs.
With Braveridge's expertise in wireless communication technology, low power consumption Bluetooth®Low Energy (Bluetooth®︎LE) powered by batteries, and mobile line (LTE) that enables wide area communication gave life to the commercialization of "Reservoir Management System" that is smaller and lighter with improved installation property supported by our mass production design technology.
FEATURES
●Significant reduction in the implementation costs including costs of equipment and installation, and maintenance fees.
Achieved ultra-low equipment costs as low as 1/5 of the conventional system. Improved installation efficiency at the site dramatically, thus reducing the installation cost. Since all devices are made wireless completely and independently, maintenance is easy eliminating the trouble from cable breakage or disconnection.
●Built a wireless network by achieving independent power supply with batteries and solar power. This effectively improves the connectivity of the sensors and allows multiple choices for installation.
With Long Range mode of Bluetooth®︎LE, water level sensor/camera and LTE communication unit (LTE-BLE router) are separated into a wireless network. Data is aggregated in the LTE-BLE router sent to and received from cloud, achieving low communication costs and high connectivity. LTE-BLE router has a completely independent structure that integrates a solar panel and a large-capacity solid-state battery. Bluetooth®︎water level sensor and Bluetooth®︎camera both adopt a long-life battery drive. Since no external power supply or wiring is required, all devices can be installed independently at the optimum location. Additional installation of Bluetooth®︎water level sensors and Bluetooth®︎cameras are also possible with ease.
Communication of around 1km (depending on the condition) is possible under unobstructed conditions.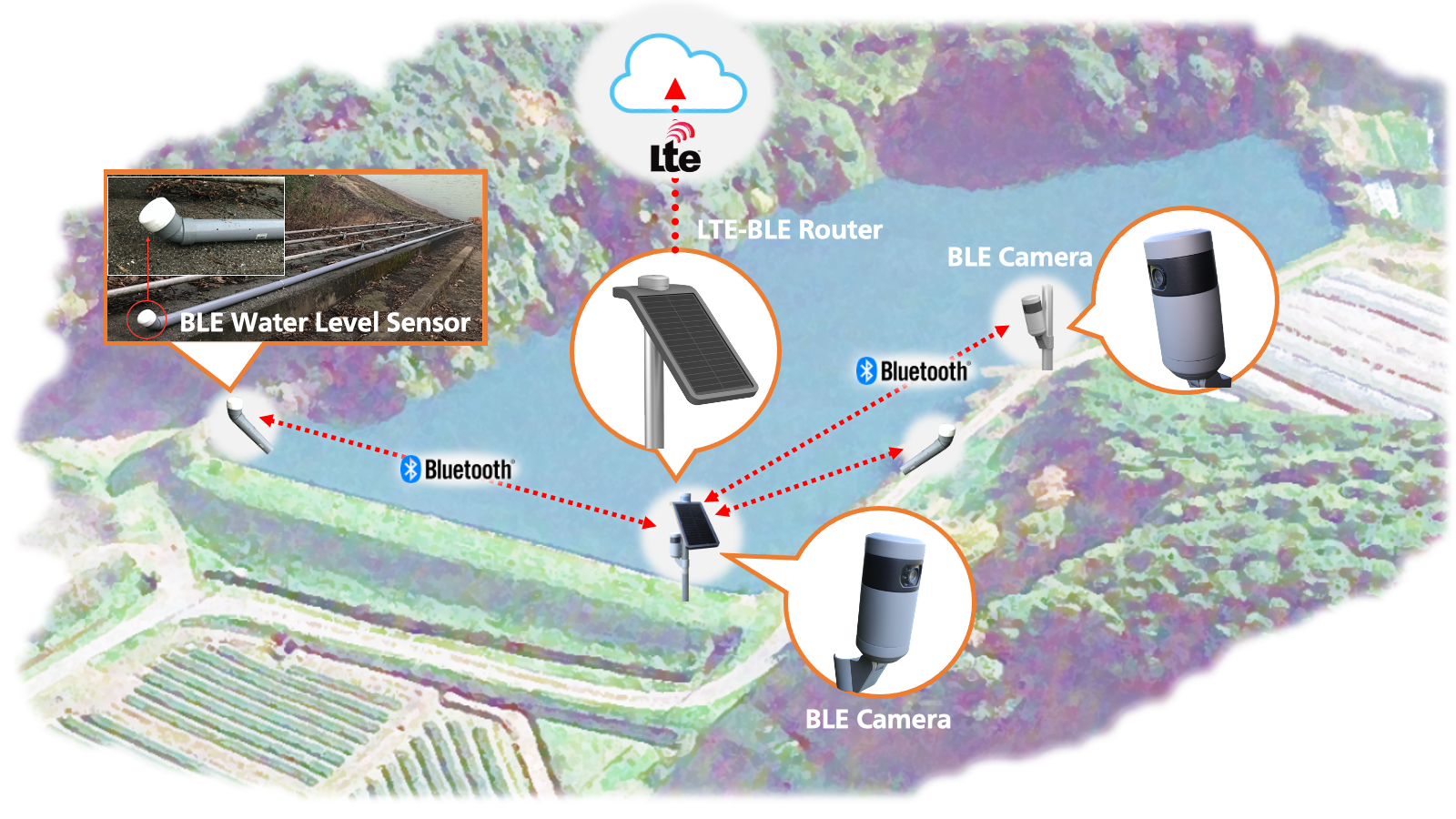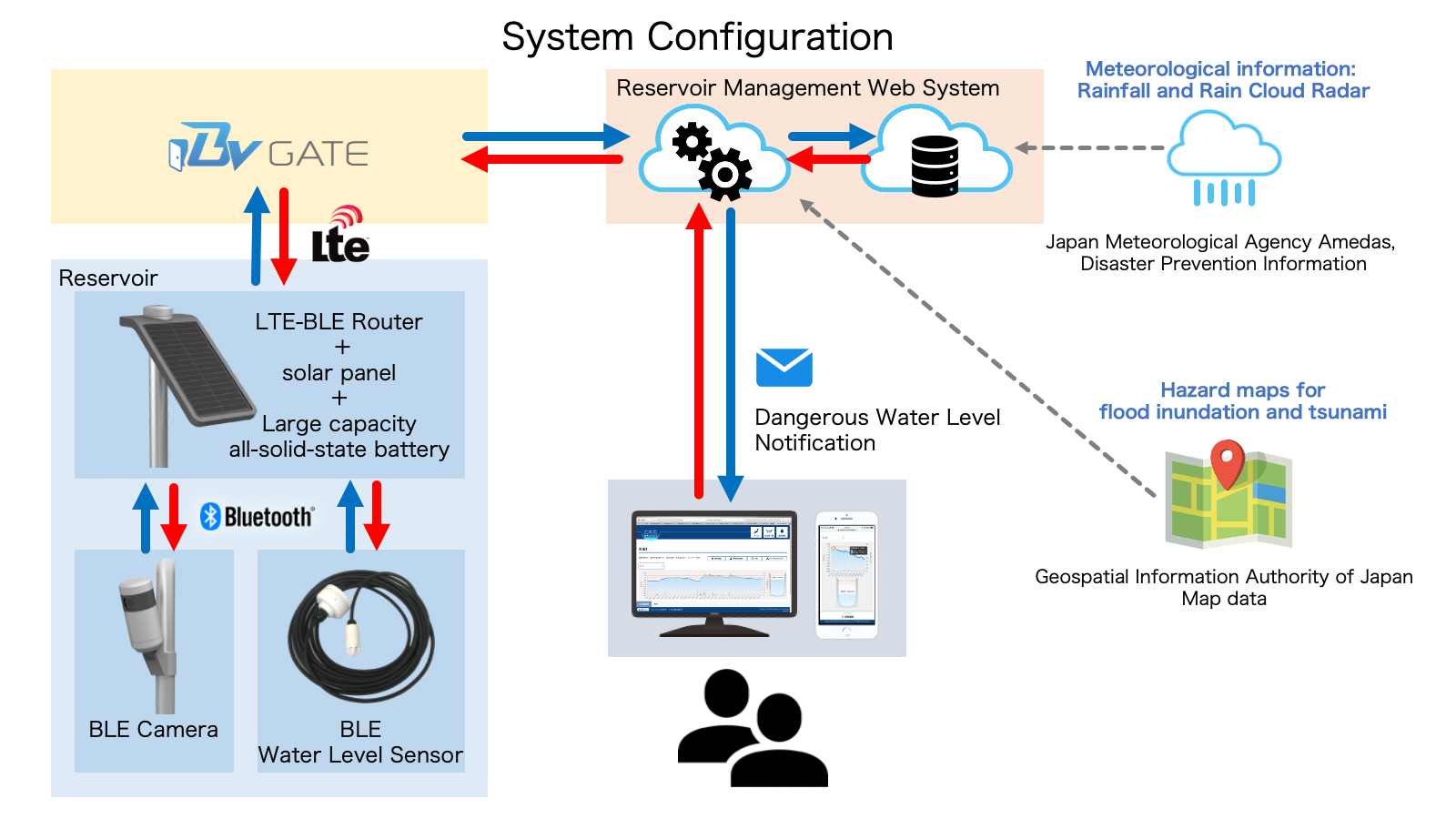 ●Easy access via web browser and remote video viewing.
Real time situation can be checked anytime, anywhere from your PC, tablet or smartphone. The information on water level are monitored by graphs and numerical values.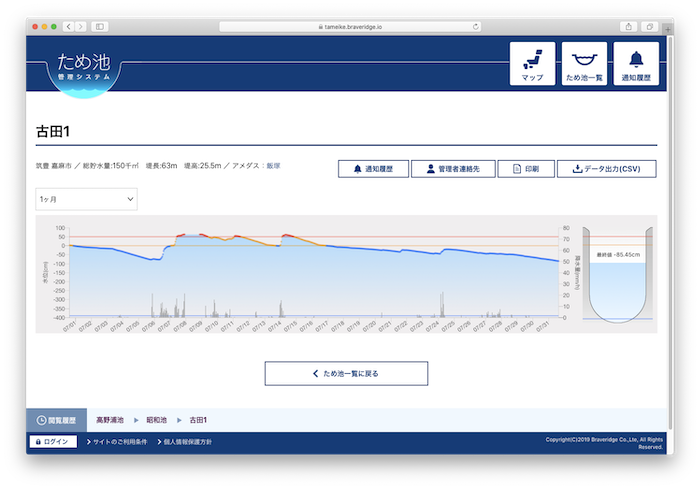 On the map screen, weather information including precipitation and rain cloud radar as well as hazard map such as flood inundation and tsunami can be checked together.
Images are monitored remotely from cameras through PCs or smartphones as and when needed as an energy-efficient and cost-effective solution. "Flood" can also be monitored on video as and when required or set up a schedule to shoot at stated periods.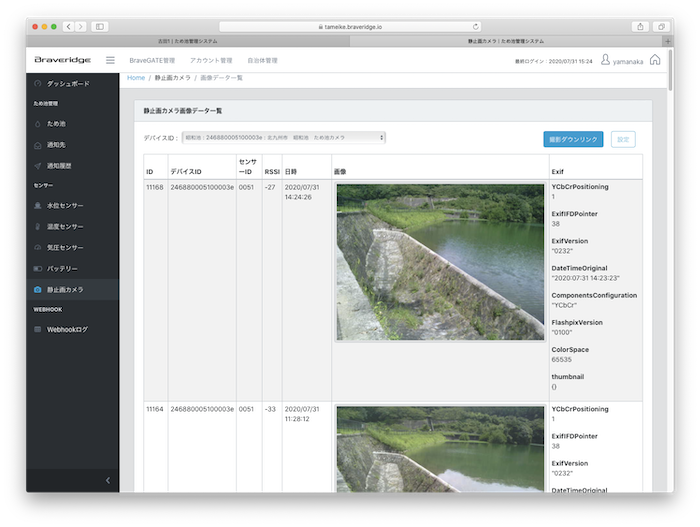 On a comprehensive management screen used by the higher authorities of local governments, multiple reservoirs can be viewed and controlled simultaneously.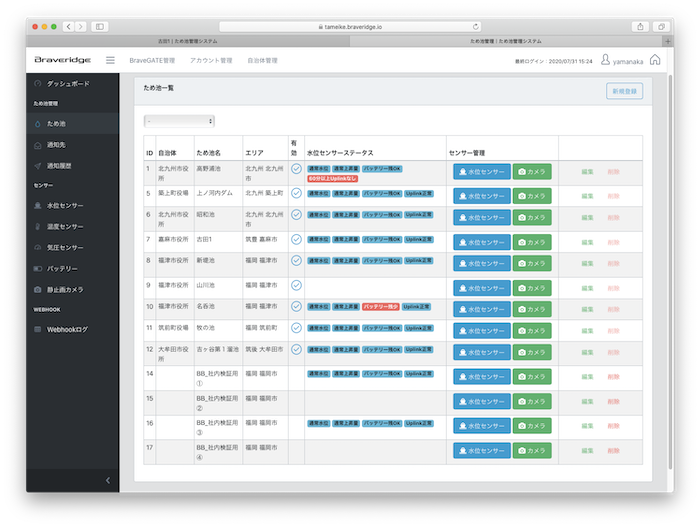 ●High Connectivity
Without the need of power supply or cable connection, adding water level sensor or camera is effortless. Images can be viewed from many different directions as multiple cameras can be installed. Various sensors such as PM2.5 sensor, soil moisture sensor, and motion sensor etc. are scheduled for launch soon.
SHIPMENT DATE : scheduled for December 2020
| Basic set | JPY320,000(excl.tax) |
| --- | --- |
| Solar battery integrated router | LTE-BLE communication unit, solar panel, large capacity all-solid-state battery |
| Bluetooth LE water level sensor | water level sensor, Bluetooth®︎communication unit, water level sensor enclosure |
| Initial set up cost | creation of top page for each customer, issuance of administration ID, etc. |
Bluetooth camera: Separate option
| Item | price (excl. tax) | details |
| --- | --- | --- |
| System's annual usage fee | JPY30,000 | LTE communication fee, platform usage fee, Application usage fee |
*Design registration pending
| Product | Solar Battery Integrated Router |
| --- | --- |
| Size | W200 x D375 x H265mm (solar panel) *Excl. communication section |
| Weight | Approx. 3.6kg |
| Waterproof | Equivalent to IPX5 |
| Wireless | LTE, Bluetooth®︎5.0 Long-Range Mode |
| Power supply | All-solid-state battery, solar panel |
| Product | Bluetooth®︎Water Level Sensor |
| --- | --- |
| Size | Communication section: ø77 x 59mm, Sensor: ø34 x 75mm |
| Waterproof | Communication unit: IPX5 equivalent, Sensor unit: 10m waterproof |
| Wireless | Bluetooth®︎5.0 Long-Range Mode |
| Measurement Method | Hydraulic type |
| Measuring Range | 0 to 10m |
| Power Supply | Lithium Batteries (CR123A x 2) |
| Product | Bluetooth®︎Camera |
| --- | --- |
| Size | ø 77 x 164mm *Excl. mounting bracket |
| Waterproof | Equivalent to IPX5 |
| Wireless | Bluetooth®︎5.0 Long-Range |
| Resolution | VGA |
| Power Supply | Lithium Batteries (CR123A x 8) |
INITIATIVES with Fukuoka Prefecture
This product was selected as a "Low cost IoT reservoir management system" by the "Fukuoka Prefecture IoT Promotion Lab" of the Fukuoka Prefecture New Industry Division in the "IoT Leading Model Creation Project for the 1st Year of Reiwa(2019)." As an IoT certified product in Fukuoka, we have already started operating the system on a trial basis at model ponds in 6 municipalities in Fukuoka Prefecture.

1. Fukutsu City (Nanomiike)
2. Chikuzen Town (Makinoike)
3. Kitakyushu City (Showa Pond, Koyaurashita Pond)
4. Kama City (Furuda Pond)
5. Omuta City (Yoshigatani No.1 Tameike)
7. Chikujo Town (Uenokawachi Dam)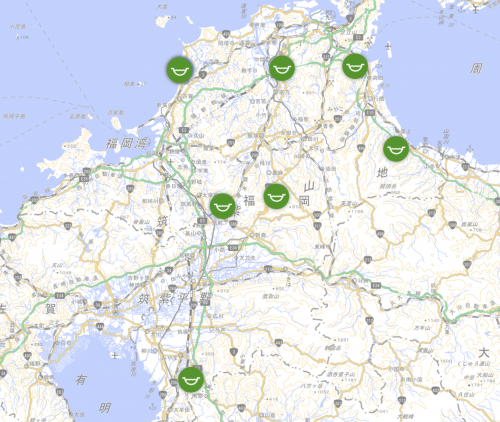 "Using the reservoir management system"
Makinoike Water Conservation Management Association Officer, Mr. Kazuhiko Kimura
Makinoike Reservoir was completed in 1945 to cover 270ha of paddy fields, which has undergone several repairs since then. The recent heavy rains made it extremely difficult for us to deal with the amount of water. It is the officer's job to look after it around 3 months after planting rice. Thanks to the innovative system, the amount of water can be grasped immediately and with the prediction of heavy rain, taking preventive measures to close the intake of water or discharging water in advance became easy tasks. Also by installing a surveillance camera in the flood spot, we are able to monitor any drifting trees or trash arriving at the site as a guide to take necessary actions conveniently and safely without going to the site.
The pond must be maintained and managed even with the population of farmers are in the decline in our town. More inquiries are coming from people other than farmers now, on how the pond is managed and if the heavy rain is being dealt with well. It is easy to understand the system by simply showing my smartphone of the management system displaying the current situation.It used to be a very dangerous job to visit the sight and monitor the situation especially during the heavy rainstorm that causes a disaster. With the installation of this reservoir system, we don't need to risk ourselves anymore.
LEAFLET
PDF
Japanese version only
QUOTATION
Click here to request a quote for this product.
Contact us
Braveridge Monitoring Service
The Braveridge Monitoring Service is an innovative IoT service which combines all the know-how of Braveridge's wireless devices, wireless communication design technology, the latest IoT platform "BraveGATE", our web technologies that enable intuitive operation, and mass production technologies at our factory, etc.